Learning environment
Edulife LCMS (Learning Content Management System), certified with ISO 9001 and ISO 27001, is the result of 20 years' experience in Open Learning.
Responsive Design and Multi Device
The application's user interface is device-specific (computer, tablet, smartphone).
Social Learning
Tutoring tools and FAQs structured according to target, multimedia educational blogs (the DidaBlog) and real time chat with qualitative and quantitative tracking systems and reporting.
Virtual Classroom
Video-conferencing systems with tracking of training activities for an integrated learning environment (for example, IVASS regulations for Insurance Companies and Banks).
SCORM and TIN Can Api Standards
Standard tracking systems for monitoring learning experiences of different types: formal and non-formal.
Gamification
Systems dedicated to creating competitions between teams or individual participants, aligning the experience to learning or business objectives.
Augmented Learning
Augmented reality applied to online learning or in the classroom provides a "lens" through which physical objects are able to "talk" to the learner, informing him/her about each object's own technical characteristics.
IVASS Compliant
The platform is compliant with all the IVASS (Italian Insurance Supervisory Authority) requirements for insurance companies with compliance reports to support training.
Course credits
Management of course credits during IVASS training for insurance companies, bank staff and other mandatory training, and CPD for professional bodies (e.g. for doctors, nurses, accountants, lawyers, etc.).
Monitoring and reporting system
Summary and detailed report options addressed to the different organisational levels, with indicators giving an overall picture of the entire organisation.
Multilingual
Particularly important for companies working with international markets.
Cloud service
High security cloud and web-based platform for safe, stable and fast access to all services from any location.
Training management module
The application which enables you to manage to best effect all the economic and training aspects of your training courses, from personal details and course information, to lessons schedules, course catalogues, attendance records, project budget, etc.
Course management
Contains all the information related to the course: title, area, dates, location, duration, time, etc.
Training course catalogue
Course description form with the option of pre-registration or registration for the course.
Enrollment management
The system can manage different companies/ areas and different profiles (e.g. user, teacher, tutor, contact person, administrator). Each profile can interact with the platform in a different way.
Classroom management
Information about the location, number of places available, and classroom equipment.
Teaching materials, tests, questionnaires, certificates
Ability to create links to external resources and upload materials (handouts, slides, etc.), evaluation tests, approval questionnaire, certificates for each course.
Calendar of activities
Managing and display of training events with the calendar of activities.
Attendance register
Recording students' presences/absences in course-related sessions through the use of the QRCODE.
Reporting
Standard report (registration, progress of courses, personal training booklet, etc.) with possible customization according to needs.
Competence management module
This application, through definition of core competences and role-specific competences, comparison of ideal and actual profiles, identification of improvement gaps, planning of development paths, helps identify areas for improvement and constantly monitors satisfaction and growth levels within the organization.
Assessment of knowledge
Assessment test, which can also be used for specified resource certification, and therefore for specific organisational unit certification.
Weighted questions and answers
Tests categorised by topic
Competency mapping
Combining defined roles and core competencies with an analysis of idealised versus actual profiles and thus identification of gaps for improvement, it becomes possible to identify which areas need to be developed and to monitor constantly the pace of growth within the organisation.
Business-based performance indicators
Definition of individual objectives, which can be shared, monitored and periodically evaluated. It is possible to extract qualitative and quantitative reports on individual profiles and collective statistics.
summary and monitoring reports
Digital learning content
This service involves creation of digital content (videos, multimedia lessons, drills, real cases, assessment tests) as learning supports and including a strong communication element. Development covers all stages, from planning, to identification of appropriate methodology, to drawing up the storyboard, graphic design, production and content finalisation.
INFORMATIONCOLLECTION
RECEIVERS, GOALS, DURATION, WAY OF SUPPLY
TEACHINGMATERIALS COLLECTION
PPT AND PDF DISPENSE
INDEXPROPOSAL
TYPE OF CONTENT ARTICULATION
STORYBOARDDEFINITION
LANGUAGE, TEXT MATCHING AND GRAPHICS
STORYBOARDVALIDATION
CLIENT INTERMEDIARY APPROVAL
VOICE - OVERRECORDING
SUPPLIER AUDIO RECORDING
SYNCHRONIZATIONEDITING
TEXT, GRAPHICS, KEYWORDS
ON-LINEVALIDATION
COURSE VALIDATION ON DEVICES AND PLATFORMS
Explore our digital content
Consulting services and Experiential learning workshops
Edulife and its Research Foundation offer strategic consultancy and experiential learning workshops, at the 311 Ecosystem and in Clients' offices, to companies willing to equip people with the necessary skills for their changing environment.

Indeed, the real challenge today is to recognise once again the value of the person and his/her ability to learn.
The method proposed by Edulife puts the person at the center, shifting from a process-based to a bottom-up model, based on people and their experiences.
Edulife is thus a Learning Accelerator with concrete proposals: from process simplification tools and complex skills development, to the generation and dissemination of new business models and paradigms.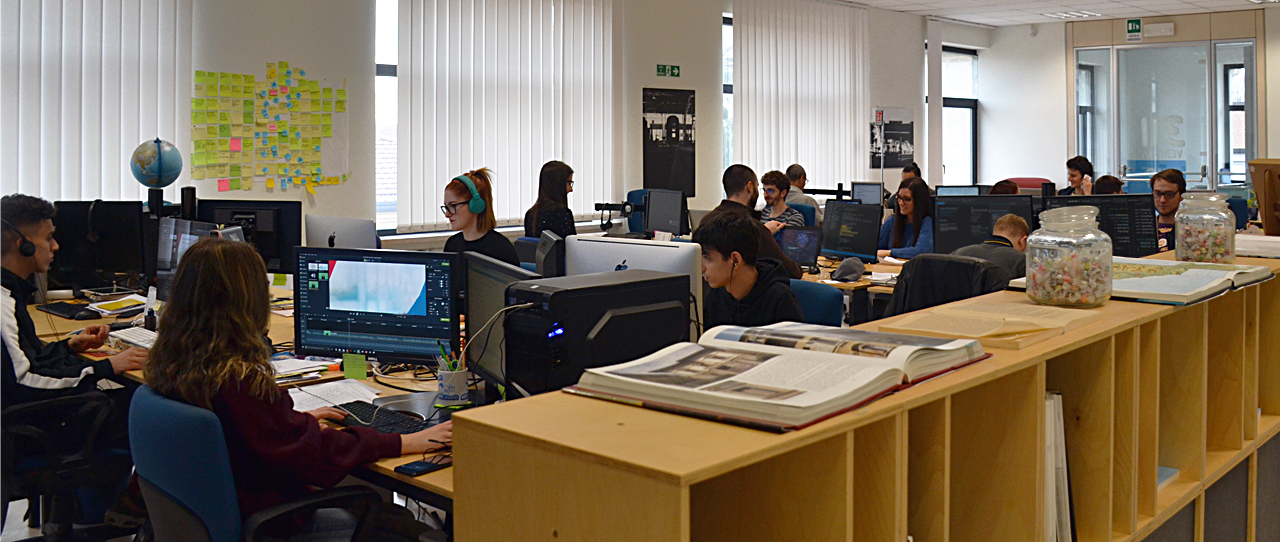 Each phase is designed, managed and capitalized for the Client Company with the constant support of a methodological advisor.
The training sessions aim to connect participants to the company's goals and values, and to share with them the necessary skill set - techniques and methodologies - required to reach the anticipated objectives and expand their potential.
The "reality projects" allow groups a concrete working experience, which can raise participants' level of awareness, developing skills and behaviour aligned to the vision of the Company.